The Utah Valley Chamber of Commerce celebrates the life of Steve Densley, a pillar of Utah Valley
Utah Valley Chamber celebrates the life of Steve Densley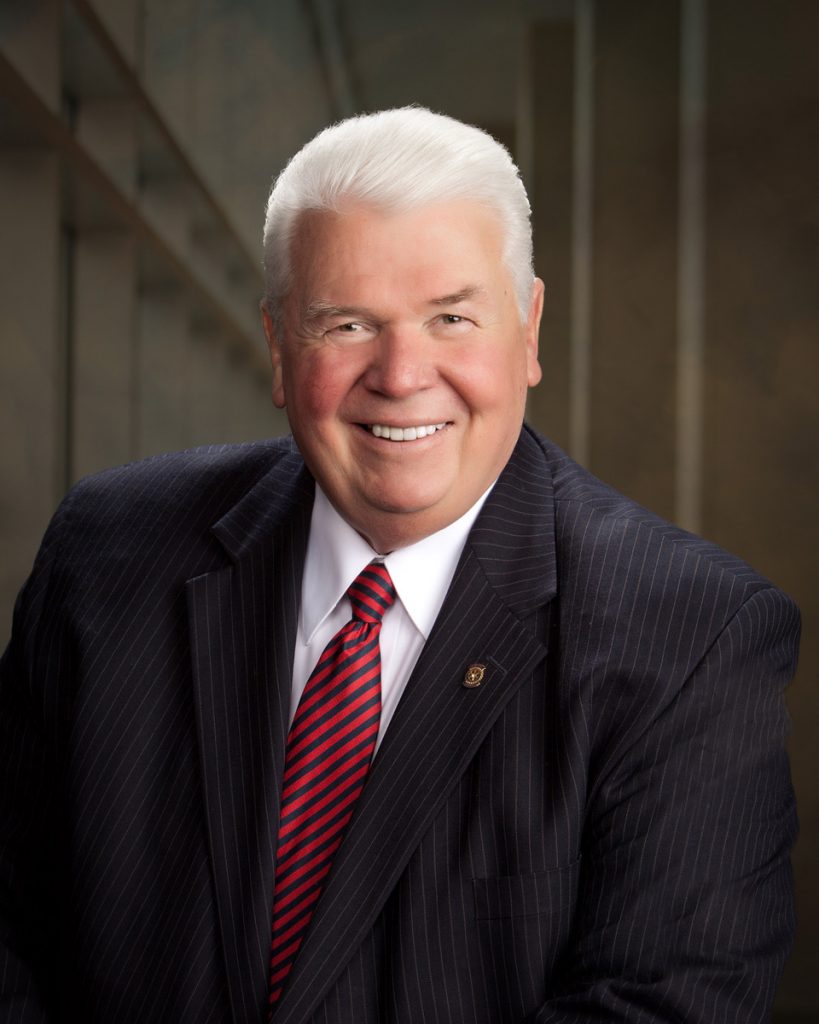 "Yep, pretty good work, Steve" – Former Utah Governor Gary Herbert
Utah Valley, Aug. 7, 2021 – The Utah Valley Chamber of Commerce today celebrates the life of Steve Densley, a pillar of Utah Valley, whose funeral is today at 11:00 am at the Oak Hills LDS 5th Ward Hillside Chapel, 1960 North 1500 East, Provo.
Densley, who originally founded the Provo/Orem Chamber of Commerce that later became the Utah Valley Chamber of Commerce, was an upbeat and happy person passionate about helping businesses grow and succeed.
"You really can point to all of the success, growth, and fame our community has received over the years," said Curtis Blair, Utah Valley Chamber president, and CEO. "And say without a doubt that in one way or another, Steve played an essential role in helping in that success. He was a hardworking, kind, and cheerful person who will be greatly missed. As a community leader and Chamber president for a large portion of his life, we grieve his death with his family. Still, we also celebrate his life, contributions, and legacy, which will live on for generations.
Former Utah Governor Gary Herbert, Utah Valley Chamber Executive Chair, and a friend and colleague since high school, said Densley was a great athlete, a great family man, and a man of great faith. "We played against each other in high school. After his first year of playing football at BYU, he went on a mission for the Church of Jesus Christ of Latter-day Saints in the Eastern Atlantic States Mission, where I also had the privilege to serve. This speaks to his character—he was devoted to his Church and was willing to make sacrifices to serve others.
"Following his mission, Steve continued his education at BYU, established his home in Provo, met and married Colleen, raised his family, ran a business, and lead the community.
"He acquired Kodiak Inc., a successful business that he later sold. For more than 30 years, he was the face of business in Utah Valley. He became the Chamber of Commerce president and was very dedicated; he never missed meetings. He loved living and working in the Utah Valley community.
"I don't ever remember seeing him without a smile on his face. He was very optimistic and always wanted to make things better.
I had the opportunity to visit with him before he passed away," said Herbert. "Even in his final days, he was still upbeat – not downtrodden or gloomy. It's remarkable where he was with his worship of God, with his family, with his service here on Earth. He is a great example of dignity and optimism for all of us, including myself."
One of the most significant tributes the Chamber can give Steve is to take from his own words the significance of Utah Valley as quoted from the book he authored, "Utah Valley: Heart of Utah."
"When I came to Brigham Young University in the mid-60s … I had not imagined … that I would be … inspired by the stunning Wasatch Mountains … and the surrounding valley communities. I had no idea that I would make my permanent home in a region frequently listed among the best, most livable, and most profitable areas of the country," Densley said. "Among the advantages of living in this valley is its easy access to business and pleasure.
"I am perched near the base of these majestic mountains. I can be boarding a ski lift at the Sundance Mountain Resort … [in] 15 minutes. Depending on the season, I can be golfing in the morning and skiing in the afternoon. If I head south, I can be strolling in acres of orchards in a pastoral atmosphere of farms, cattle, and horses. A few minutes travel northward to Lehi and surrounding small cities, and I am immersed in Utah's multiple centers of high technology business.
"It has always been that way," said Densley. "Early tribes, explorers, hunters, trappers, Native Americans, and Mormon settlers discovered the region long before its discovery as a robust and prosperous valley with abundant financial, social and quality life possibilities."
Densley was a man without guile, said Herbert. "With that smile, he cared about everybody. Look where we're at today in Utah Valley. He was passionate about business growth. Because of the foundation and work he did, we now have the strongest, fastest-growing economy in America.
"Yep, pretty good work, Steve."