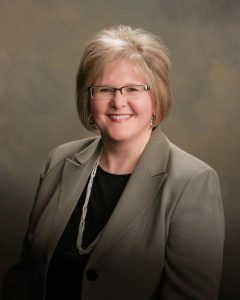 With the start of a new year and a new decade the Utah Valley Chamber of Commerce has some exciting announcements. But first, we need to look back at what we have accomplished. Utah County is at a crossroads. Over the next 20-30 years, the county will add 1 million people to its population. We are working to address the challenges and opportunities that comes with this growth with Valley Visioning. Through the Valley Visioning initiative, residents and stakeholders have been engaged in a process that establishes a community-supported vision for growth in Utah County. The vision will act as a voluntary, yet powerful framework to underpin future planning in the county. Over the past year, six major policy areas of greatest importance to Utah County residents have been identified through public surveys and workshops.
The top six policy areas are:
Workforce and Education Alignment
Transportation and Infrastructure
Housing Affordability
Air Quality
Water
Open space, agriculture, recreation
These are issues that everyone cares about, especially the business community. The vision that comes out of this planning process will benefit from strong momentum and broad, demonstrated support as it is implemented through public, private, nonprofit and partnership activities. This Spring we will unveil the final results of the Valley Visioning initiative, but the work will not end there. We will work with leaders in business and government to ensure that the vision is implemented across the County.
The Utah Valley Chamber has four exciting announcements regarding our legislative engagement and support of the Chamber membership to share with you.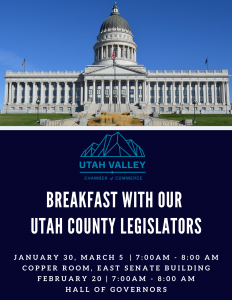 Announcement #1
: The two Breakfasts on the Hill last legislative session were a success. We were pleased to see so many business leaders attend and participate, even at 7:00 am in Salt Lake City! It was very encouraging to see so many of you join the conversation.
The 2020 dates, locations and a variety of breakfast services have been secured to continue these terrific conversations:
7:00-8:00 am
Thursdays-January 30, and March 5 will be held in the Copper Room of the East Senate Building
Thursday, February 20 will be held in the Hall of Governors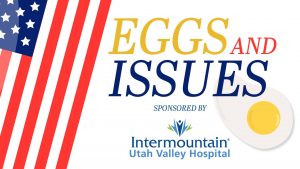 Announcement #2: Saturday morning Eggs and Issues will no longer be hosted by the Utah Valley Chamber. Another organization is working to continue the long-held community meetings. Our focus is shifting primarily to serve the Chamber's members. This group prefers to meet during weekday working hours and Breakfasts on the Hill are better for meeting their needs.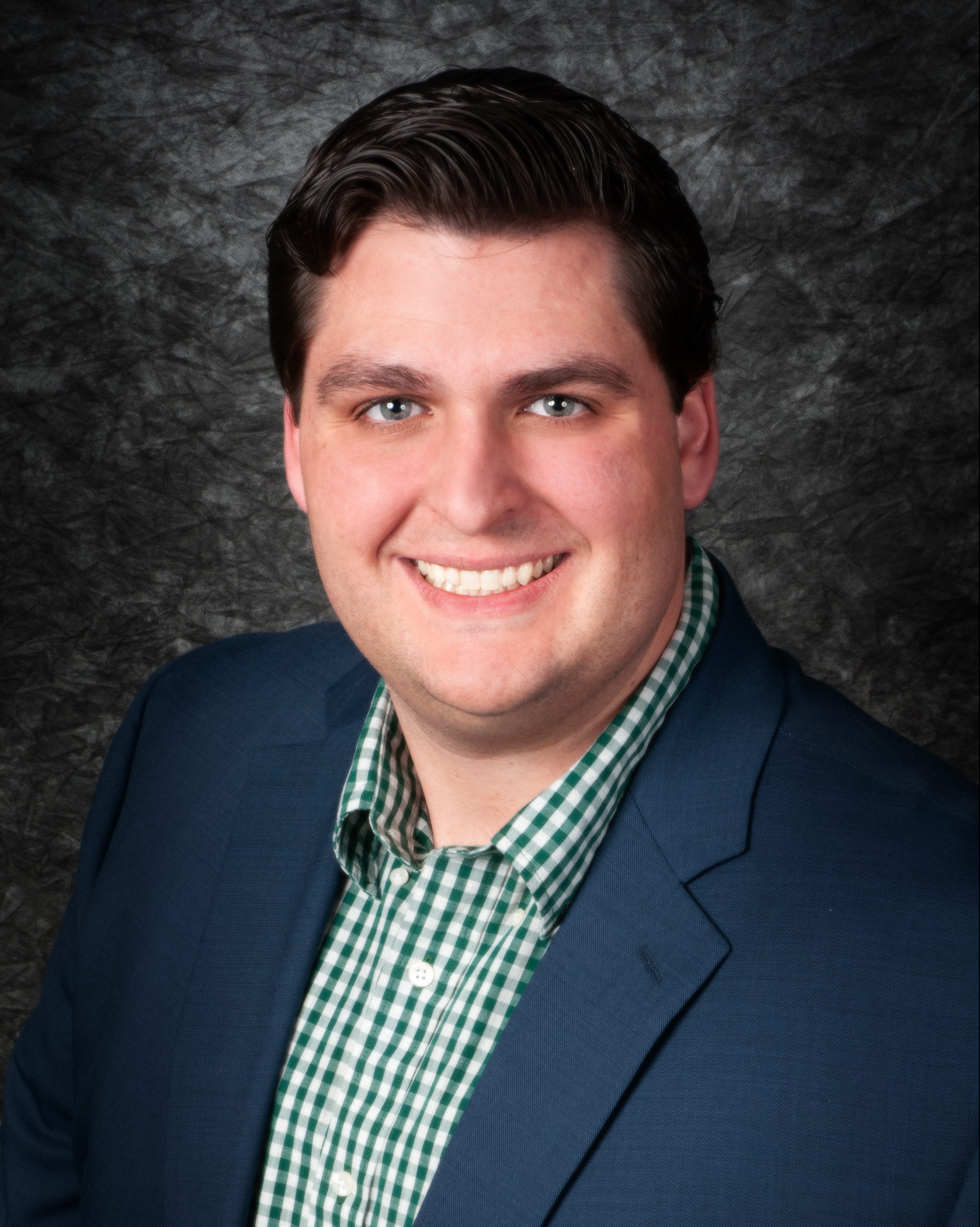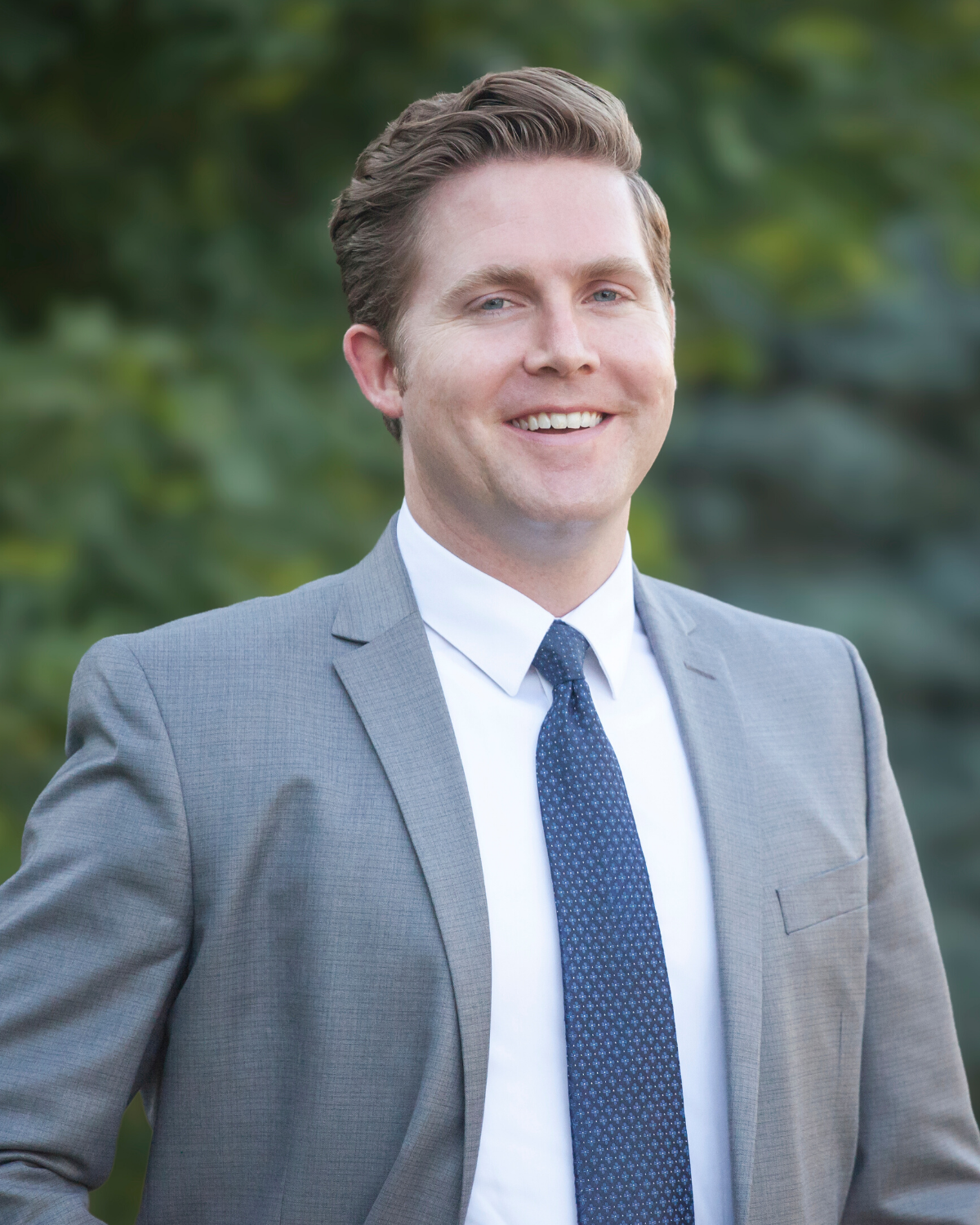 Announcement #3: Andy Pierucci was hired in June 2019 as the Chamber's Policy and Business Development Director. He hit the ground running and met with many of you to share the Chamber's priorities sourced from the Valley Visioning initiative. As an update, Andy very recently accepted a government relations position with Northrop Grumman. I wish him the best in his new position.
I'm pleased to announce Nic Dunn has accepted the position and begins his duties January 21, 2020; just in time for the legislative session. Nic recently served as Salt Lake County Councilwoman Amy Winder Newton's senior policy advisor. Previously he was the PIO at the Department of Workforce Services and before this position served as associate director of communications in Governor Herbert's office. Nic will be active during the 2020 session providing regular updates to the Chamber membership on business related bills and working with you to deliver the best policy for the business community.
Announcement #4: Open dialogue with our membership is critical to serving you effectively. Newly launched polling and communication tool, VoterVoice, will help the Utah Valley Chamber implement a smart and effective approach to our renewed mission to lead, convene and influence. More information will be shared with you soon.
The Utah Valley Chamber is effective because smart, influential businesspeople from across the valley are willing to work together. Through your membership in the Chamber, you build our community. 2020 is going to be a historic year for us as a Chamber and I look forward to working with you as we lift our community. Thank you for everything you do to make Utah County such a great place to live, work, learn, and play.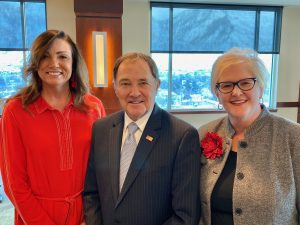 The Utah Valley Chamber is proud to be the voice of business in Utah County. We are actively engaged in policy issues to represent the thousands of businesses located in our growing and prosperous region. With the 2020 Utah legislative session fast approaching, we are working around the clock on behalf of the Utah Valley business community. To read our 2020 Legislative Guide, click below. Additionally, in the coming weeks we will unveil a new grassroots policy engagement tool for our members to better communicate with their legislators on the issues that matter most.
Be sure to join us for our three Breakfast on the Hill events during the legislative session and read our weekly legislative update newsletters. This is going to be a busy year for the Chamber's policy team and we are looking forward to working with you as we make sure Utah County continues to be the best place in the country to live, work, learn and play.
Alan Osmond Set to Receive Chamber's Highest Honor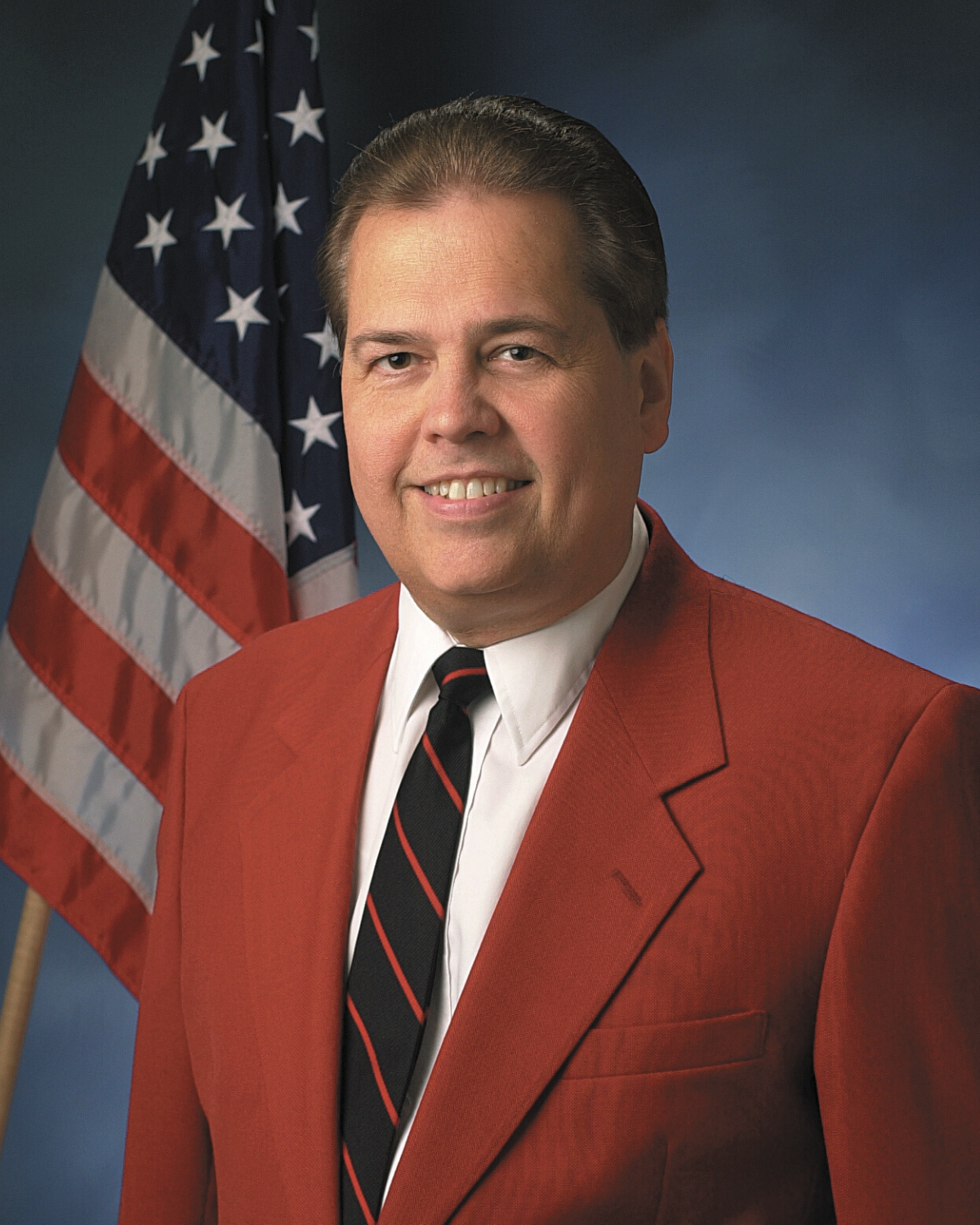 The Utah Valley Chamber of Commerce has selected Alan Osmond as the recipient of its prestigious Pillar of the Valley award. He will be honored Mar. 19, 2020 at the tenth annual Pillar of the Valley Gala, to be held at the Utah Valley Convention Center.
The Pillar of the Valley Award is the Chamber's highest honor. It was created in 2011 to honor individuals who have made extraordinary contributions to the business, civic, social, educational, and cultural climate of Utah Valley. The gala is one of the premier social events in Utah Valley, attracting many key Utah business, civic and religious leaders.
"Alan Osmond is an exemplar of the spirit of leadership and giving the Pillar of the Valley represents," said Rona Rahlf, president and CEO of Utah Valley Chamber of Commerce. "Alan has served the residents of Utah County and the world for decades, changing thousands of lives. Many people owe in part, their success, health and well-being to this great pillar of our valley."
Alan has been performing in front a world-wide audience for over 55 years. As leader and eldest member of the Osmonds, he has practically lived on a stage, thrilling many millions of people with their world class Osmond brand of entertainment. During much of the Osmonds' career, Alan, being oldest of the group, was the band's behind-the-scenes leader, playing piano and guitar, co-writing many of their songs, co-producing most of their recordings and arranging the dance choreography.
Alan began performing with his brothers when he was eight years old. With the addition of Donny, brother and Marie, sister, the Osmonds became known worldwide via television. Alan and his siblings transitioned from 7 years of a weekly national TV series in the 60's, caused the 'Osmondmania' World Wide sensation in the 70"s, became top in Country music in the 80's and starred at their own Osmond Theater in Branson, MO in the 90's.
The late 70's began a new chapter in Osmond's life as executive producer of the ratings hit TV series, "Donny and Marie Show". Alan was involved in all capacities of production from their own Osmond Studios in Orem, UT. The skills learned during this exciting time were strengthened in the 80's as Alan Osmond Productions was tasked to oversee the Regan inauguration festivities as well as President Bush's.
With Alan serving as President, Alan Osmond Productions created a new standard for larger-than-life firework stadium events, 'Stadium of Fire', now in its 40th year. Partnering with The Osmond Foundation, Alan helped launch the creation of what is now known as The Children's Miracle Network, raising over 7 billion dollars for sick children. Currently, Alan has a 'Charity for Orphans' at oneheart.org.
Alan and Suzanne are proud parents to eight sons and 28 grandchildren. Alan has been involved as a successful writer, producer, director, speaker, entertainer, but more importantly to him, he is a good husband, father and grandpa! Those priorities are most important to him stating, "No success can compensate for failure in the home."